Spectrum Colored Cement are a pre-mixed, high-quality Portland and Hydrated Lime cement. This means no measuring, mixing or uneven coloration that can happen with liquid cement dye colors! Our color cement offer you a great opportunity to add another design dimension to your project. Use Spectrum Color Cements to give the exterior of your home, office, building, church, or school that extra edge people will always notice. Why leave up to 20% of your project's exterior a dull, colorless gray when Spectrum Color Mortar offers over 25 different color masonry cements!
Whether you want to make a statement or just to match – Spectrum Color Cement has the perfect color cement to contrast, match or compliment any type of material including: brick, stone, marble, concrete, tile, or glass block.
In addition to our extensive color selection, we also offer custom colored cement that will match your precise specifications or sample! A sample of the hardened mortar will be produced to match the color sample you provide. These sample strips are designed in such a way that you can place them between two masonry units to simulate the mortar joint. Upon your approval, and receipt of your order, we will proceed with the productions of the product you have specified. This process is for specially blended colors; order for our standard colored products are usually shipped upon receipt of the order. (Custom blending may make sense when it is economically feasible to do so and if the time required for custom blending does not delay work)
We are located in Texas and because of this we are able to offer subsequent savings in freight and shorter delivery times. The freight savings are especially beneficial to our customers throughout the south. Our blending process utilizes state of the art computerized weighing, blending and packaging systems. This, along with the manual checks that we perform, insures a quality color match from one lot of cement to the next. The color consistency of our product is superior when compared to a field-mixed color. The quality of our cement is attested to by our satisfied customers who have laid millions of square feet of brick, block, and stone with these products.
If your looking for a product that will enhance and enliven your architectural designs think Spectrum Custom Colored Cements. For more information about our quality products or to request a sample color mortar kit, please call 1-800-873-5794 and speak with someone from our dedicated sales team.
Please Note:
( 2 ) Conforms to ASTM C-91 and ( 1 ) Conforms to ASTM C-270
Custom Blended Colored Cements are available in the following specifications: ASTM C-270 Type M, S, N or O (Portland & Lime Cements), ASTM C-91 Type M, S, N or O (Masonry Cements) and ASTM C-150 Type 1 (Portland Cements)
The cement strips that we provide represent the range of standard colors available with Spectrum Custom Colored Cement. We suggest that a job site sample panel be erected, with the chosen colored cement and masonry sand to be used in the construction, for a more accurate representation of the actual mortar color laid with your chosen brick, block or stone. The final "field" joint color is dependent upon many factors, such as sand used, the amount of water used in each batch, time of joint strike, cleaning procedures and general workmanship.
Click here for interactive color cement guide.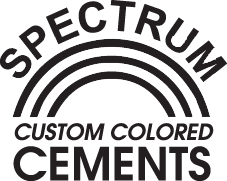 Safety Data Sheets (SDS)
Submittal Letters:
Literature:
Other Resources: